Residential & Commercial Roofing | EDEN PRAIRIE, MN
Numark Restoration has earned an outstanding reputation for our roofing work because of one thing… consistent quality. We take the time to follow through on very detail, from ensuring that we start with a solid and even roof deck, then installing the shingles in flush, straight courses, to properly installing the finished ridge cap and venting; we are proud to be one of the best roofing companies in the industry!
If your home or business has received storm damage we can offer you a quick response to prevent further damage, and work with your insurance company to provide a solution to your problem. We are an approved vendor for insurance claims and we work with your insurance carrier to provide a smooth transaction and excellence work, using our trained and certified roofing professionals and top quality materials. We use the most popular architectural shingles in North America, GAF brand Timberline shingles and we are one of their Master Elite roofing contractors.
Our roofing installations on residential homes, commercial businesses, apartments and hotels have earned us the highest ratings, because we constantly exceed industry standards and fully guarantee our work. We offer a gorgeous selection of GAF architectural shingles, attractive economy choices and an impressive selection for commercial businesses. We also install flat roofing for commercial businesses.
Making sure your roof is sound and secure is extremely important, yet many homeowners neglect their roofs. Like everything in your home, your roof requires maintenance. Maintaining your roof is a low cost way of ensuring that your home and family remain safe. If you haven't had your roof inspected recently, give us a call for a free inspection.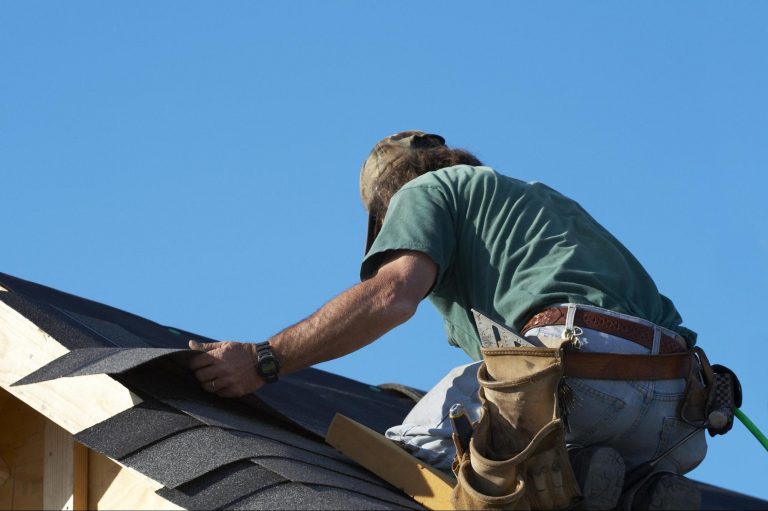 ROOF REPAIR & REPLACEMENT
Replacing your shingles isn't always the solution; sometimes you only need a roof repair. Some signs you need a roof repair include loose shingles, minor water damage, and flashing problems. Roof repairs are reasonably priced and provide ongoing protection for your aging or slightly damaged roof. As with any other maintenance problem that is ignored, a small problem can turn into a major damage if it's not quickly resolved. Numark Restoration will handle roofing repairs effectively, at a low cost to you. We want to make your roof repair or shingle replacement as simple and streamlined for you as possible by working directly with your insurance adjustor. Our work is guaranteed and we offer a free roofing inspection and quote, so pick up the phone and give us a call. Don't gamble with an aging or damaged roof when it protects everything you value.
Numark Restoration is one of the few construction companies that provides roofing services and storm damage restoration for Geodesic Domes. The numerous intersecting angles that comprise the roof of a Geodesic Dome can create a roofing nightmare for anyone who isn't experienced with installing roofing and windows in Dome structures, and that's where we really shine!